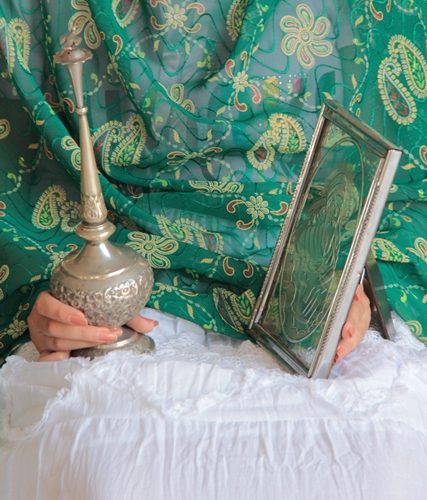 20 Nov
Know Zoroastrians Better!
Zoroastrianism is one of the most wondrous religions in the whole world and unlike the past, now it has turned into just a small community in some parts of the globe.
Here, in this blog you'll find some of the interesting details about them:
Koshti, Zoroastrian Gridle
Zoroastrian Witnessing Ceremony
Zoroastrian Food Tables
Zoroastrian Mourning Rituals
Koshti, Zoroastrian Gridle
Koshti is the exterior sign of a Zoroastrian. A white long strap, made by 72 sheep wool yarn, which Zoroastrians wear around their waist during Sedreh Ritual.

Wearing Sedreh ritual is one of the Zoroastrians' glorious ceremonies and full of symbols.
Koshti is made of 72 white yarns (referring to 72 seasons of Yasna – the most important part of Avesta). 72 yarns, divided to 6 strings (referring to 6 Gahanbar) and every strings has 12 yarns (referring to 12 months of the year). Also they tie the Koshti on their waist three times which refers to the three pillars of Zoroastrian Faith; Good thoughts, Good words and Good deeds.
This ceremony takes place when someone chooses to be Zoroastrian for the rest of their life.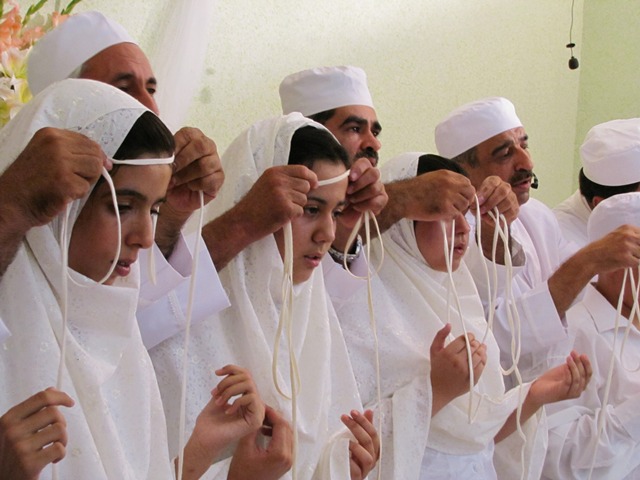 Witnessing Ceremony
Witnessing or Gavahgiri is a Zoroastrian Ceremony for a couple who want to get married. Witnessing means finding a witness for the marital bond between a man and a woman. This beautiful ceremony has a lot of interesting details which you can get familiar with some of them here:
Groom's clothe
The groom has a green hat with small flower-sewing on it, on his head and a green scarf on his shoulder which both are a gift from her wife's mother.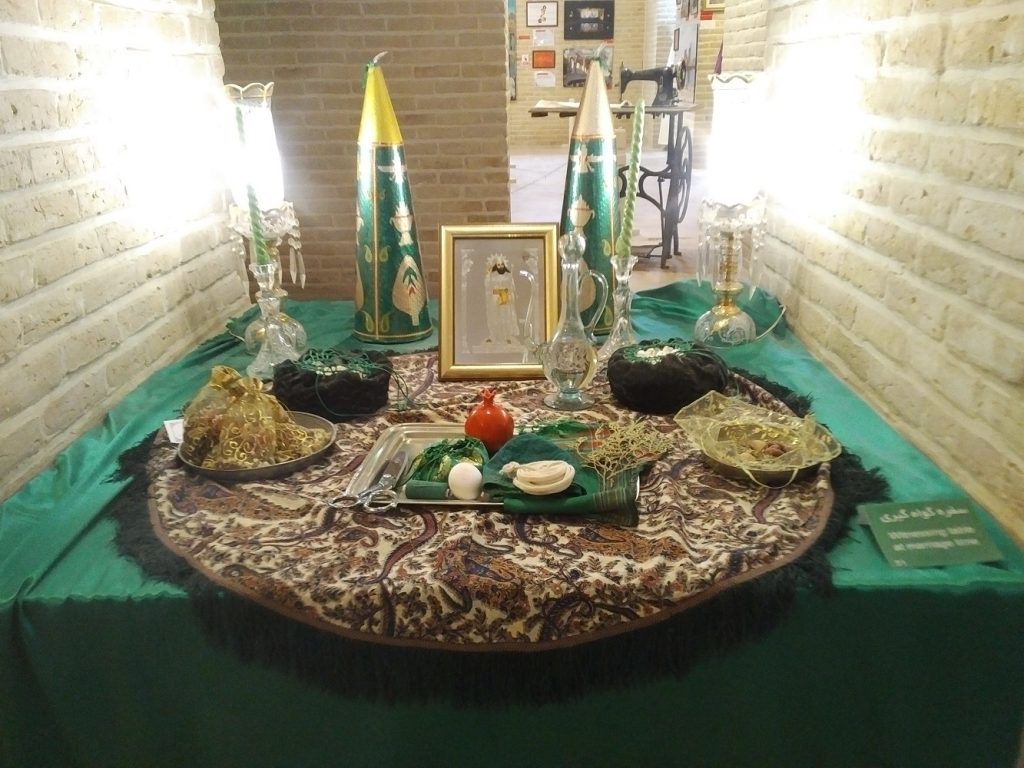 Witnessing table
Grean loaf: two green loafs are on this table as a symbol of lucky fortune and happy life.
Lork: Seven different types of nuts in a doolok to share it with guests.
Thyme: a doolok containing thyme and present in order to giving to guests as symbol of lucky and green fortune.
Witnessing plate
Groom's brother has a plate in his hands during the ceremony, containing Zoroastrian and traditional symbols as below:
Pomegranate: a sweet gift from groom to the bride.
Green fabric: a piece of cloth as a present to the priest.
Green needle & string: to sew their problems with green fortune.
Scissor: Which means they have to work with each other to have a better life just like two blades of scissor.
Mirror: as a symbol of brightness of their life.
Egg: there's an egg in this plate that someone on behalf of the bride drops it from the roof top on the ground. Which puts the bad eye away and stops the others interposition in their life.
Koshti & Avesta: as a symbol of religion and believes in their life.
Zoroastrian Food Tables
You can see a food table in all of the Zoroastrian Rituals, such as Gahanbar, New Year ceremony, Witnessing and etc. with lots of details and symbols. 7 of these details which is similar in all of the food tables, are symbol of Amshaspandan. Zoroastrian priests made these humanized symbols to make Amshaspandan a part of the routine life.
What are Amshaspandan?
Amshaaspandan or Immortal pure traits, are God's quiddity traits, which people can try to achieve them.
Sepantaminoo / increasing wisdom
Vahman / thinking of good
Ordiehesht / the best truth
Shahrivar / being the king of self
Sepandamazd / love, kindness, Humility
Khordad / perfection
Amordad / immortality
The way of getting to heaven, or in other words victory of good is achieving these traits.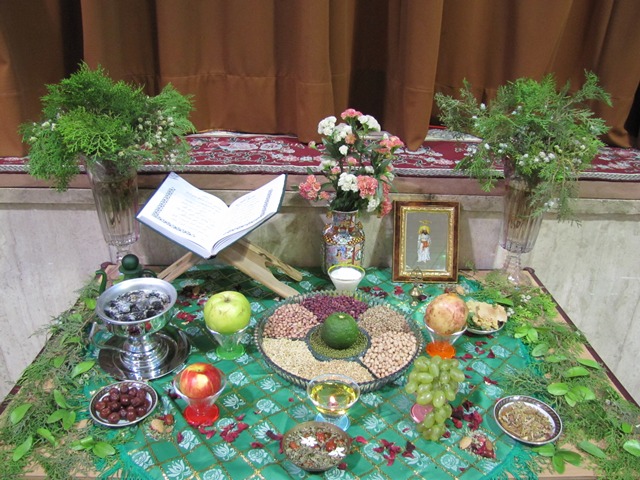 Amshaspandan & Zoroastrian Food Tables
The people who sit on the table are symbol of Sepantaminoo / increasing wisdom
Milk or egg as a symbol of useful animals for Vahman / thinking of good
Fire or any kind of light as a symbol of Ordiehesht / the best truth
Metal dishes on the table are symbol of Shahrivar / being the king of self
The food table on the ground is symbol of the earth for Sepandamazd / love, kindness, Humility
Water is Khordad or perfection's symbol.
Cypress or other kinds of plants are symbol of Amordad / immortality
Zoroastrian Mourning Rituals
White is the mourning color in Zoroastrians culture. They use color to calm each other.
Sadness makes it hard for body to digest the food. That's why when someone dies people don't eat meat for 3 days and instead they eat foods like potato and eggs.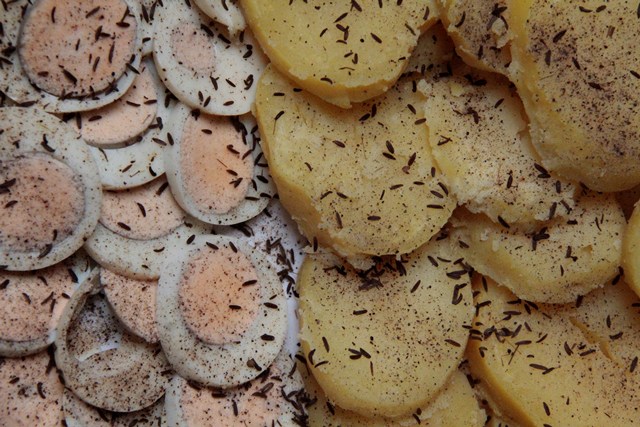 The third day
Zoroastrians believe that the third day after dying, before sunrise, is time of passing the "Chinavad" bridge. Which means going to the other world.
So in this day, all of the close friends and family of the gone person sit together on the ground, priest prays and everyone wishes for reducing the bad deeds of the gone person and increasing the good deeds. They want to be near him during passing this way. In the sunset time, they turn off the light to make it easier for him to pass the bridge.
Everyone who attend to this ceremony have to wash their hand and also the close family of the gone person should take a shower. And all of these means they want to wash their hands from the gone person and they don't wish him to come back anymore!
Roozeh
Zoroastrians have some periodical rituals to pray for their gone families with the name of "Roozeh"
The first Rooze is in 30 days after he died.
Zoroastrian calendar has a name for every 30 days of the month. So the next Roozeh is in the day with the same name of the next month after the day of passing. And it continues for 13 months.
After this 13 months, they take this ceremony every year in the same day for 30 years. The 30th Rooze is the most important one and has a very big ceremony.
Nartitee's Blog, 1398 Autumn
Pictures by Rashid Shohrat
Written by Heliad Rezayi